Is Your Mobilehome Out of Level?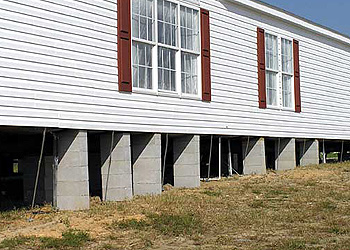 If you have more than one door that sticks or swings opens, or a window won't shut or latch properly, your mobilehome may be out of level. (You may need to just tighten the screws on your door hinges.)

Other signs that your home may be unlevel include:
- water on your floors or countertops run to one side
- cracks in your ceiling or walls
- buckled skirting
- squeaky floors
- loose anchor straps

The primary reason why manufactured homes become unlevel is excess moisture underneath the home. Moisture makes the ground soft, causing the blocks or piers holding up the home to sink. Another reason your home may be out of level is improper blocking during your home's original set-up.

If you've determined that your house is out of level, you should have it releveled as soon as possible to avoid damage caused by undue stress on certain areas of your house.